Take the guess work out of prioritising projects
Unsure which projects to work on next?
Unsure which projects provide the best benefits to your company?
Having trouble prioritising projects?
Want a consistent and independent way to prioritise projects
Prioritisation of projects is tough to get right. There can be multiple criteria and stakeholders with different views of what is important and what is valuable. Failing to align all these interests with the organisation's business strategy and direction will undermine the whole project selection process. As a consequence, projects may be chosen based on inconsistent and politically influenced criteria, in a selection process that is not trusted and not based on the benefits they deliver.
Over 85% of Project Managers and Project Manager Offices have indicated that prioritising and funding the appropriate initiatives/projects was essential or very important to remain competitive. In the same report, Project Managers indicated that changing organisational priorities resulted in 41% of projects been deemed failures.
Many organisations, which appear to have mature project prioritisation processes and governance, still end up with too many projects in their portfolios, with projects that fail to produce benefits and with obsolete projects being implemented. Many use weighted criteria spreadsheets, prioritisation matrices and vendor tools that are simply not good practice.
We first encountered these problems in 2003 and consequently developed our prioritisation tool based on Analytic Hierarchy Process (AHP) ranking. This tool "Project Prioritiser" is suitable for any organisation to use.
The Project Prioritiser tool, combined with our expertise, experience and guidance, will provide a powerful and consistent project prioritisation process that allows the ranking of projects based on cost and benefits and alignment to business strategies and directions.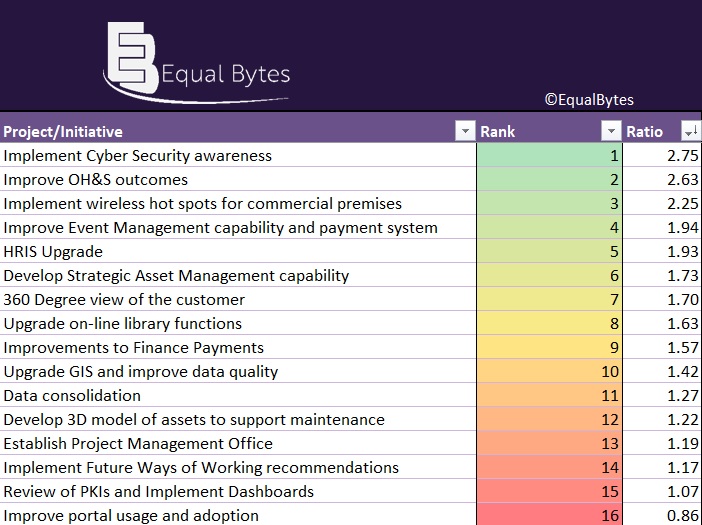 A clever way to govern projects
The Project Prioritiser combined with our expertise can provide a clever way to align other project activities making it more effective to govern projects.
The costs and benefits used to prioritise a project can directly feed into the Business Case, Project Management, Change Management and Benefits Realisation. This increases the alignment between all the plans and is more likely to result in project success and benefits being delivered. Equal Bytes can provide valuable assistance, based on our years of experience and our expertise, in all these areas.
Project Prioritiser allows the ranking of projects against each other, based on an organisation's specific benefits and costs criteria. It ensures that projects which deliver the highest benefits, for least amount of cost, are given the highest ranking.
Further, Project Prioritiser:
Enables you to prioritise projects based on the weighted costs and benefits that are important to your organisation

Provides a consistent and methodical way to prioritise projects

Produces an Investment Roadmap

Enables high-level financial analysis e.g. Return on Investment

Complements (feed into) Business Cases, Project, Change Management and Benefit Realisation Plans

Enables you to understand the variance in project benefits and costs

Provides Analysis for individual projects so you can select the best option

Has an options analysis feature that allows the comparison of different options for an individual project.
Cost per additional user $195
Maintenance per year per user $195
Contact Equal Bytes for a proposal to setup, configuration and train staff on using the Prioritiser (typically 2 – 10 days)
We also offer on-going support and governance services

Case Study
Local Government Council
This Victorian Local Government Council's Digital Transformation Program listed over fifty projects, with a total value of several million dollars. The projects were prioritised by a Steering Committee, however the list represented opinions rather than being based on benefits and costs data. As a result, the list was rejected by senior management.
We were contacted to review the list and to use the Project Prioritisor to re-order the projects.
The first step was to group the projects into initiatives, which reduced the list down to under 30, with more of a business focus.
The scoring criteria was established, using a number of inputs including the Council's Business Plan, input from senior management and ICT capability.
The projects ? initiatives were scored and ranked and this list was presented to the senior management team, who in turn endorsed the list.
The process required the Project Team to determine the benefits that will be delivered, which in turn enabled the Change Manager to create their change and benefits realisation plan. These needed to be signed off by the Sponsor, who became accountable for the delivery of the benefits, and by the Project Manager, who managed the costs and risks.

The process took eight days of consulting time to setup and work with the Council, to ensure the scoring and weighting aligns with their business strategy and can deliver the benefits of the program.
· Enabled the Council to prioritise their projects (initiatives) based on benefits to be delivered for the financial and non-financial costs involved.
· Enabled the Council to align their change and benefits management plans with the scoring.
· Enabled the Council to align their budget for the program using the expected costs and road map created in the Project Prioritiser.
· Facilitated approval of the project program and handing over of the process and management to the Digital Transformation Steering Committee.
Case Study
Rural Water Authority
A small rural Water Authority did not have the resources or knowledge to develop an ICT Investment Strategy to support its business. With limited funds, it needed to know if the projects delivered the best benefits for the costs e.g. best bang for their buck.
We worked with them to develop the Framework, which included using the Project Prioritisor to score and prioritise projects.
The Lifecycle Framework enabled the Water Authority to shape investment proposals, inform decisions about them, monitor their delivery and track the benefits of projects.

The process took a total twelve days of consulting time spread over two months.
· Produced a Road Map based on benefits and costs, i.e. best Bang for Buck.
· Enabled the Water Authority to complete their 5 year water plan submission, using the costs from the Project Prioritiser.
· Provided a consistent approach to scoring and prioritising projects, i.e. it removed much of the politics.
· Produced a Framework that enabled projects to be methodically scored and ensure they deliver benefits.
· Allowed alignment of projects with their Strategy and Water Plan.
· Increased Executive sponsorship and accountability for benefits
Case Study
Private Health Provider
A private health provider's Project Management Office (PMO) did not have a good reputation for delivering projects and some departments took it upon themselves to deliver projects. This resulted in disjointed project delivery with management unclear if benefits were being delivered and showdown project delivery teams popping up.
The first step was to create a governance group to oversee projects and then to implement an investment methodology using the Project Prioritiser.
The Project Prioritiser was configured and used to score and prioritise all projects. This enabled the PMO to see the portfolio of all projects with benefits and costs, to make strategic decisions on when to schedule projects and to manage organisational change management impacts.
The PMO was able to develop a balanced project portfolio which was accepted by the Executive and Board. The benefits and goals outlined in each project provided a focus for the Project Team to rally around. They were able to see how their work supported the benefits.

The process took a total nine days of consulting time spread over two months.
· Provided a consistent way to rank projects.
· Provided a clear alignment with benefits and goals.
· Enabled the PMO to create a balanced portfolio of projects taking into consideration a number of factors including risk, change management, resources, budget etc.
· Provided clear and easy reporting of project benefits.
· Enabled Business Cases to be easily written and align with the Project Prioritiser scores.
Case Study
Logistics Company
A large logistics company implemented projects based on each individual department's budget i.e. if they had the budget they would implement the project. As a result, some projects were delivered because the department had the budget even through the benefits were minor. In addition, some departments, who had a greater need, were not able to implement their projects because they did not have the budget.
The first step was to create a governance group to oversee projects and then to implement an investment methodology using the Project Prioritiser.
Individual project budgets were then handed over to the governance group and the Project Prioritiser scoring and weightings were created.
All projects were then able to be scored based on the benefits and costs, providing the company with substantially more benefits than previously.

The process took a total twenty days of consulting time spread over four months.
· Provided an easy and consistent way to identify which projects add value and which don't.
· Reduced the overall project budget.
· Enabled the company to increase or decrease project budgets based on benefits.
· Improved project satisfaction as project teams could see that their project was delivering real and measurable value.
· Enabled significantly higher return on investment.